Books Of Knowledge, Second Edition
---
The second edition of the Books of Knowledge includes over 60 new pages covering the features and enhancements added to version 4.0 of the RTS-Advantage Accounting System.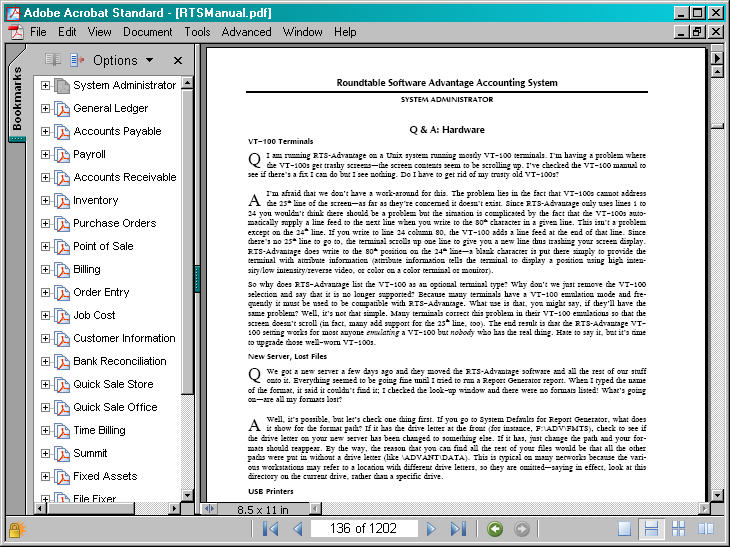 Are you ever frustrated when you have questions about the software and the manual doesn't answer them? Do you want more in-depth information than the manual offers? Do you find the manual hard to use and not user-friendly? Do you wish you could access the manual directly from your computer?
We hear your requests and we're answering in a big way. Now available is the RTS-Advantage Book of Knowledge set, a two volume compendium of everything you could ever want to know about your accounting system. The Books of Knowledge include not only vastly improved program-by-program and function-by-function detailed walk-throughs, but also adds wonderful new features, including:
Advanced Topics: Special essays that discuss the more challenging and powerful concepts of the software in depth.


Q & A: Answers to the most common questions you have about the software, compiled over years of experience doing technical support for RTS-Advantage. Recoup the cost of the Books of Knowledge on the first support problem it solves.


Tutorials: Entire courses that teach you step-by-step techniques for using some of the most powerful features of RTS-Advantage.


Index: The entire Book of Knowledge set is indexed so that you can find answers on any subject in a jiffy. Each module has its own index, plus a comprehensive master index to the entire set.


Hardware/Software Guide: Complete guide to getting the most out of RTS-Advantage on your equipment--complete coverage of operating system and network interface, printers and other hardware devices, working with third party software add-ons, and more.


Online Access: Access the complete manuals from an icon on your Windows desktop. Answer questions at the tap of a mouse button. Use Adobe Acrobat (included) to perform keyword searches that go beyond any index!
The RTS-Advantage Books of Knowledge two volume set, including online version CD-ROM, is available from your dealer now. Place your order today!
Roundtable Software's suggested retail price for the two volume set with CD is $199.
| | | |
| --- | --- | --- |
| Comparison Chart | Old Manual | Book Of Knowledge |
| # Of Pages | 450 | 1,300+ |
| Module Indexes | No | YES! |
| System Index | No | YES! |
| Detailed Table of Contents | No | YES! |
| Q & A Section | No | YES! |
| Advanced Topics | No | YES! |
| Hardware & OS Guide | No | YES! |
| Tutorials | No | YES! |
FYI: The secret phrase from the Book Of Knowledge Giveaway Contest can be found on page IN-70.
---
Roundtable Software Home | Add-On Products | Custom Programming | Support Services | Power Utilities | What's New | Site Map

---

Roundtable Software • 30831 Cove Road • Tavares, FL 32778-5164
(352) 253-9779 • FAX: (815) 572-5446


All contents copyright © 2000-2008 Roundtable Software. All rights reserved.